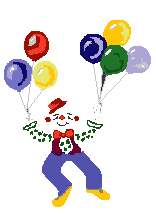 Hi! Thanks for stopping by the
Interactive Fun Stop.
Below are a few fun things for you to participate in.
Just click on the one you want to go and you are off!

I hope you enjoy your stay here!

Your first stop is The Whitehouse. Let us see how many questions you can answer with regard to The White House and Presidents.
What's ya Era?
Play Breakout
Fill In The Blanks is just that, fill in the blanks.
Hey, How A Bout A Pizza?
Gobble, Gobble Pac Man is here.
What's your favorite color?
Color blind...Play Master Mind
What Irks You About People Who Do Not STOP at a Stop Sign?
Share your Pet(s).


© 1996 - 2006 by GGG